Standing on Quality
The prolonged standing and repetitive motion that are required for many manufacturing occupations tire the body and often result in musculoskeletal fatigue and pain, sore feet and ankles, swollen legs, knee-joint tenderness and chronic lower-back pain. The concrete floors that are commonplace in the workplace further aggravate the situation. Concrete floors do nothing to help absorb the constant impact the body sustains while walking and offers little insulation from heat or cold.

Biomechanical research shows that the stiffer the floor, the more the body must absorb some of the impact of the footfall. Conversely, the softer the floor, the quicker the body tires. Anti-fatigue mats placed directly over concrete floors help eliminate problems associated with hard floors, but are not effective unless they have specific performance characteristics.

Based on surface deformation under load, anti-fatigue mats can be characterized as either

point elastic

,

area elastic

or a

combination

of both.

Mats with flexible top surfaces that do not sustain lateral tensile loads are point-elastic. Point-elastic mats give with pressure only where the mats are stepped on. They provide cushioning and shock absorption and virtually no impact energy return. Point-elastic mats include sponge products, coiled-vinyl loop, link mats and most drainage mats.

Mats with stiff top surfaces that sustain lateral tensile loads are area-elastic. They give by bending slightly over a substantially larger area than the footprint. Area-elastic mats provide energy return and little cushioning. They include solid-molded or extruded products, plywood, steel and fiberglass platforms. The ideal anti-fatigue mat features a soft layer that provides cushioning and shock-absorption, and a stiff layer that provides load distribution and energy return. All mats must withstand short-term overloading without damage, withstand rolling loads and not bottom out.



Safety
To help ensure safety, the degree of traction between the shoes and the mat surface needs to be high enough to prevent slipping, but not so high as to restrict controlled foot movement when walking, turning, sliding or pivoting. Mats that rely solely on absorbent spongy materials can trap the foot. This prevents controlled movement and results in eventual ankle damage, decreased foot stability, and an increase in foot rollover that can cause a loss of balance. Beveled safety edges should be used to reduce any tripping hazards. Unfortunately, falls occur, so mats help absorb impact and minimize the problems associated with a fall on hard concrete or wood floors.



Technical Application Assistance
We will be pleased to help you select the best mats to provide a safer work environment consistent with OSHA guidelines. When you specify USMats floor mats and work platforms, you can be assured you've chosen the best quality and value to meet your needs.


USMats® Inc. - Reliable and Dependable

USMats has developed a series of mats that utilizes the best of point-and area-elastic properties by combining a semi-rigid top surface and a flexible base. MBOSS® and RxMat® ensure the ideal combination of toughness, stiffness and resilience without compromising durability. Our Axis workstation platforms haven proven to be ideal to allow more people to fit their workstation comfortably, safely and effectively. We're proud that our products are " Made in the USA."





Performance Characteristics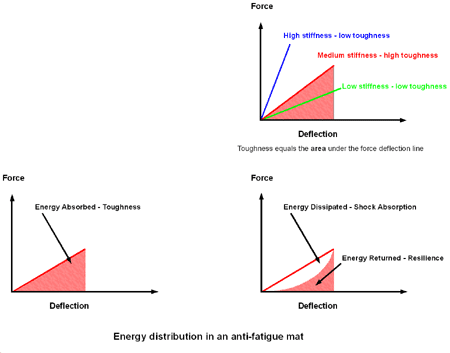 Toughness—ability to absorb energy
Resilience—ability to return energy
Shock Absorption—ability to dissipate energy
Anti-Fatigue—overall sustained comfort level
Resistance to Indention—withstands puncture
Traction—controls the amount of slip
Pivoting and Sliding—controls foot trapping
Rolling Load—withstands rolling load
Abrasion Resistance—resists surface wear
Durability—resists failure
Surface Stability—resists foot rollover
Maintenance—overall ease of care

The performance characteristics listed in this website catalog are intentionally general in nature as they represent a consensus based on input from many sources. The best course in selecting a mat is to seek a balance of properties desired for an application. Information about the original mat and service conditions can help when seeking a replacement mat for an existing product. For new products, our experience with similar applications can help you make the best selection.



Material Selection - Rubber or Vinyl
Natural Rubber

and

SBR

are non-oil- and grease-resistant materials that are inherently elastic and resilient with good water resistance.



Nitrile (Buna N) Rubber

, a synthetic rubber developed as an oil- and grease-proof substitute for natural rubber with superior puncture and abrasion resistance in addition to chemical protection.


Excellent abrasion, cut and puncture resistance




Good heat and tear resistance




Excellent flexibility and frictional surface


Good low-temperature properties



PVC

,

also known as polyvinyl chloride, is an all-purpose polymer that resists acids and alcohols, but not petroleum solvents.
Good abrasion, puncture and tear resistance
Poor cut and heat resistance


Fair flexibility and frictional surface




Not good in areas where transmission fluid is used





Warranty
All products in this website catalogue are guaranteed to be free of defects in material and workmanship under normal conditions of usage, provided our recommended application, installation and maintenance instructions are followed. Any defective material will be replaced at our expense if a claim is reported to us in writing and if our examination shows that the product has failed under the terms of this warranty. USMats shall not be liable for damages in excess of purchase price of the product. The maximum period of responsibility is one (1) year from the date of shipment.



USMats® Inc.
-
History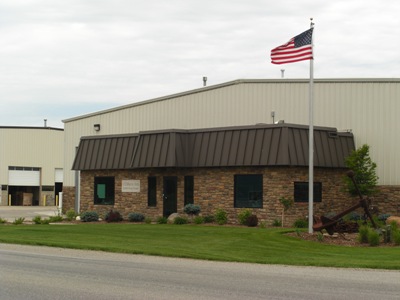 Our customers receive not only benefit from the products that we manufacture and supply, but also our near 75 years of experience. Our company was founded in the 1940s as Woodcraft Industries, which manufactured a proprietary wood link anti-fatigue matting. As more matting materials became available, Woodcraft expanded its product line to be a full-service matting manufacturer and supplier, offering a complete line of matting products and workstation platforms. Our philosophy is, and has always been, to find for our customer the best product that will do the job satisfactorily at the most economical price.

On Jan. 1, 2003, a corporate restructuring and name change to USMats Inc. was timed to coordinate with the rededication of our manufacturing facilities in Algonac, Michigan to reflect our ongoing vision to be a world-class manufacturer and supplier.

In 2008 we expanded our manufacturing facility and moved our corporate offices to Marine City, Michigan.

USMats designed, developed and manufactures the ground-breaking MBOSS® and RxMat® family of mats, both of which have patents and patents pending, and the Lightweight Axis workstation platforms.

To ensure that our products meet your—and our—exacting standards, the entire USMats family has adopted the following quality mission statement:



USMats®

Inc. products and services will be of the highest quality to meet the requirements of our most exacting customers. We will provide products to the market that meet or exceed customer specifications in quality, value and delivery. We plan to continue our ongoing business by operating profitably to satisfy the current and future objectives of our customers, owners and suppliers.